Get Ready for the New Lexus LC 500 Convertible
If you have always loved the look of the Lexus LC 500 line but wished it came in a convertible model, your wait will soon be over. Beginning this summer, you'll be able to buy a 2021 Lexus LC 500 convertible at South County Lexus in Mission Viejo. We're excited about what this spectacular car has to offer to our customers. Here's a first look at what we know.
Built for Adventure
The LC 500 convertible will have many of the same features of the LC 500 Coupe, including its powerful 5.0-liter V8 engine with 471 horsepower and 398 lb-ft of torque, paired to a 10-speed automatic transmission.
To compensate for the soft convertible top, Lexus has relocated some of the vehicle's structural bracing to ensure rigidity. The LC 500 convertible has a new aluminum suspension brace in the back along with a relocation of the upper suspension-tower brace. Modifications have also been done to the front of the suspension, which helps improve ride quality.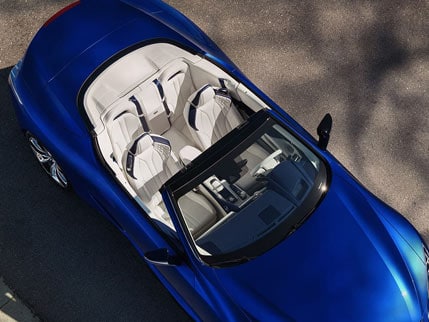 First glimpses of the soft convertible top indicate that it has four layers that raise and lowers in 16 seconds or less and stores discreetly under a tonneau cover. It's available in black or brown to match one of the LC 500's nine exterior covers. If you elect to get one of the 100 cars in Lexus' special Inspiration series, you'll get a blue top with structural blue paint and a white leather interior with chrome and black wheels. For the regular edition, you have a choice of black, circuit red, or a toasted caramel interior.
Lexus has noted that you'll be able to drive this convertible with the top down in any temperature as it has features like neck and seat heaters and cabin ventilation that will blow warm air on your upper body in cold temperatures when the top is down.
You'll also get the latest in entertainment technology with a 10.3-inch display screen that connects with Android Auto, Apple CarPlay, and Amazon's Alexa. This system will also allow you to use Lexus' popular Enform Remote and Destination services.
Of course, when it comes to safety, the LC 500 convertible comes standard with Lexus Safety System+. Among the features of this system are pedestrian detection, pre-collision warning, smart cruise control, and lane-keeping assist with lane departure warning.
Stop By Our Showroom
To learn more about the LC 500 convertible, stop by our showroom in Mission Viejo for more information. Our staff will be happy to give you the latest facts on this outstanding new luxury car.