How Often Do You Really Need To Change Your Oil?
If you recently purchased your first new vehicle, you probably are learning a lot about the ongoing maintenance that is needed for your vehicle. This maintenance is imperative if you want to protect your car. Some things you can do on your own. It is easy to top off windshield wiper fluid and check the level of your oil. The more difficult tasks should be done by a professional. This includes things like tire rotations, alignments and oil changes. If you are wondering how often you should get your oil changed, there isn't really a definitive answer. The number of miles or months that you can let pass by, varies from vehicle to vehicle. Some vehicles will need an oil change once every 3,000 miles. There are more modern vehicles that can go up to 15,000 miles in between oil changes.
How Often Do You Recommend Changing Oil?
There was a lot of advice years ago that pointed towards oil changes every 3,000 miles. This was the recommendation regardless of what kind of vehicle you drove. While there are vehicles that need an oil change every 3,000 miles, this isn't the typical frequency with all vehicle oil changes. This number may be a bit higher if your vehicle is in mild driving conditions. The number can be a bit less if you idle your vehicle a lot in traffic, if you drive in the extreme heat, or if you drive in very polluted or dusty climates. Ultimately, it is important to check your owners manual for an exact maintenance schedule.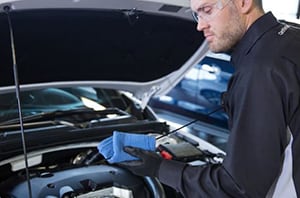 What Type of Oil, Synthetic or Conventional?
There are two main types of oil that you can use for an oil change. Synthetic oil is a man-made product while Conventional oil is a natural form of oil. The great thing about synthetic is that it is really affordable. There is also a more rigorous quality control process and formulation that is used to create the product. You can rely on the quality of the product being the same each time you have an oil change done. We can recommend some great products to you if you need advice on what to use for your oil changes. Synthetic oil will last you a lot longer than conventional will. You can read more about the product that you are considering in your owners manual.
The amount of time that you can wait in between oil changes is different in each scenario. Your base line number has to do with the manufacturer's recommendation for your specific vehicle. From there you can think about the conditions that you are driving in. There are also factors to think about relating to the oil you are using and the oil filter brand. If you have further questions about oil change frequency, then you should give us a call or visit us at South County Lexus. We are happy to answer any questions that you may have. We'll get you on a schedule so you can protect your investment and have routine maintenance done regularly.